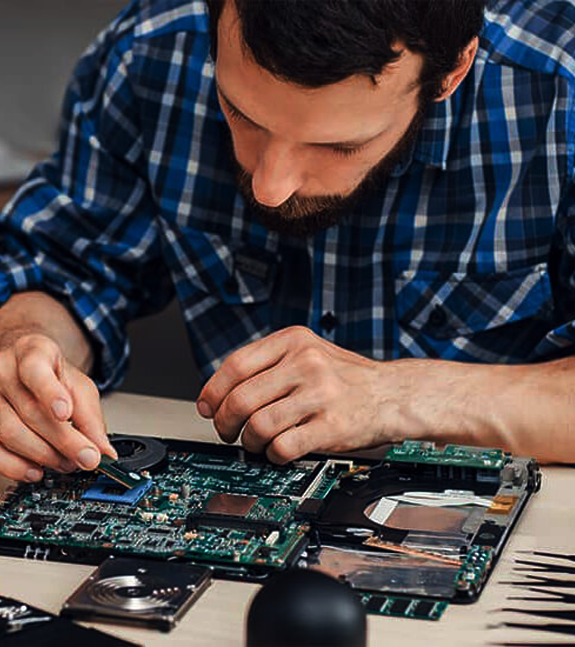 Restoring Your Devices with Expertise
Sri Lanka's
Premier

Laptop Repair Services

Welcome to WireTree, your comprehensive and cost-effective solution center for all laptop-related issues. Our professional team is dedicated to providing high-end, first-rate laptop repair and support services to businesses around the country. We customize to your individual needs with our easy onsite and remote repair alternatives.

We offer the flexibility to solve computer problems in the most effective method feasible, whether it's remote troubleshooting over the internet or sending our professional specialists to your location.

We provide an extensive amount of laptop repair services, which includes antivirus software installation, hardware upgrades, RAM and battery replacement, memory upgrades, wireless networking, system security testing, motherboard fault repair, LCD/screen replacement, water damage restoration, laptop hinge repair, wide range levels chip repair, hard drive errors, body fixing, and addressing keyboard or touchpad problems. Our dedication to simplicity and dependability guarantees that your laptop remains in good condition, ensuring that your computer constantly operates at its best.
How Our Service Center's Repair Process Works?
At WireTree, we provide extensive repair services for laptops, desktop computers, and a multitude of other digital devices all over Sri Lanka. Dive into the detailed process we follow for repairs at our dedicated service centers to understand how we ensure seamless and efficient solutions for your devices.
01

Pickup Service
Before picking a device for repair, have to provide personal information and clearly classify the issue. After that, Your order will be verified via email, and a delivery partner will pick up the device at your chosen location.
02

Inspection Of Your Device
The delivery partner will pick up your device, inspect it, and inform you of the issue and the estimated repair cost. After receiving confirmation, technicians will begin working on the device.
03

Repair Of Your Device
Your device will be picked up by the delivery partner, inspected, and you will be informed about the issue and the estimated repair cost. Technicians will begin working on the device once they have received confirmation.
04

Device Back To You
After the quality check, we will hand over the device to our delivery partner, who will have it at your door in one to two days, depending on where you are. It has been accomplished! In contrast to how it was given to you, your device will be in significantly better condition when it is returned.
Sri Lankan Laptop Repair And Maintenance Services
90-day warranty on spare parts
High-quality laptop repairs performed by experienced service technicians
Safe and simple laptop repair service at home
With tech help, antivirus, and repair support included in the annual plan.
30-day warranty on service
Our engineer will inspect your laptop, identify the problem, and then make suggestions for the best way to proceed.
wiresms Laptop Repair The price of spare parts, should they be required, is not included in the laptop repair service.
Laptop servicing involves cleaning it thoroughly including RAM, connectors and keypad.
wiresms Laptop RepairServices for performance improvement including defragmenting the disk, clearing the cache, updating the drivers, and testing the booting speed are also offered. They assist in addressing typical laptop problems like slowness
Covered operating systems: Windows and Mac.
wiresms Laptop Repair Software prices that are not covered by the service.
wiresms Laptop Repair Only supported for Genuine OS installations.
Software costs are not covered by the service.
wiresms Laptop Repair Only authentic software installations are supported.
wiresms Laptop Repair Operation system installation not supported
Unlimited remote technical assistance for any problems or one year.
Complete breakdown protection with labor and service fees included. Should they be required, spare components will be invoiced separately.
Complimentary Antivirus
Included: System setup and software support

Onsite Computer/Laptop Repair & Services
WireTree.lk is committed to providing onsite computer and laptop repair services at your home or office. Our dedicated and professional engineers assist you in making informed decisions about repair or replacement solutions tailored to your specific needs. We offer a wide range of computer repair services that address various issues you may encounter in your day-to-day computing needs.
We offer repair and maintenance services for a wide variety of computer brands, including but not limited to HP, Dell, Asus, Acer, Toshiba, Sony VAIO, and Samsung. Trust WireTree.lk for comprehensive, reliable, and efficient computer repair solutions.
Laptop Motherboard Repairing Service
The motherboard is undoubtedly the vital component in your laptop, as it connects and stores major hardware components like the processor, RAM, and hard drive. However, with time and regular usage, issues may arise. If you encounter problems with your laptop's motherboard, there's no need to rush into buying a new computer.
Besides to a common opinion, laptop motherboards can be repaired. Instead of immediately considering purchasing a new device, reach out to wiretree.lk and let our experts examine your laptop's motherboard. Our skilled technicians will assess the issue and provide the best possible solutions to get your laptop up and running smoothly again. Avoid unnecessary expenses and explore the repair options with wiretree.lk.

Laptop Part Replacement Service
Indeed, replacing laptop hardware may be a difficult process that must be approached with carefully. Individuals who are unfamiliar with the subtleties of hardware or have limited understanding should seek the advice of specialists. You may guarantee that the performance of your PCs is optimized by doing so.
At our service center, we keep an up-to-date inventory of extra hardware components that have been carefully selected in order to improve the performance of your devices. Our knowledgeable staff can assist you in picking the appropriate upgrades that will meet your requirements and provide obvious improvements in the capabilities of your laptop. You may be confident that your computer will perform optimally with our skilled guidance and high-quality hardware alternatives.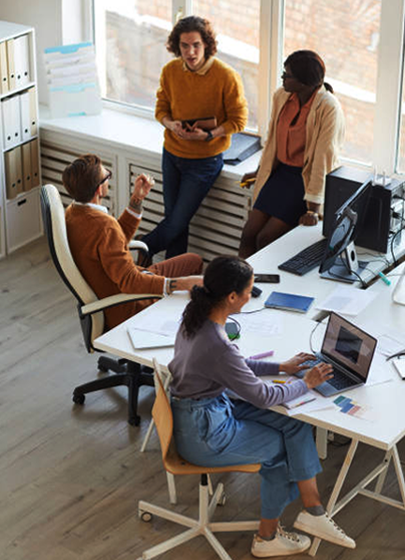 Computer repair at your door
HERER WE ARE HELP TO YOU
Searching for a nearby computer repair shop can be challenging. It's crucial to find trustworthy technicians who can diagnose hardware issues and handle software installations. Key factors to consider include experienced staff, a variety of services, and work warranties. Using online searches or asking for recommendations can narrow down options. Ensure you inquire about their experience, warranties offered, and the tenure of their business. Proper research can lead to quality service at a good value.Experiencing computer troubles and need a dependable repair service nearby? Several companies provide at-home computer repair, adept at resolving hardware, software, or virus issues. They offer a spectrum of services like data recovery and network maintenance. So, when seeking a proficient computer repair close to you, choose a professional committed to excellence.
My desktop keeps overheating: why and what to do?
Desktop computers can experience overheating due to various factors, including dust accumulation in the fans, inadequate cooling, and poor airflow. Components like the CPU and graphics card generate significant heat, which, if not properly managed, can lead to overheating. Even the power supply can contribute to heat buildup if not adequately ventilated. To prevent overheating issues, it's essential to regularly clean the fans, ensure proper airflow and ventilation, and use high-quality fans and heat sinks. In search of a computer repair home service near your location? Look no further! Our professionals are here to offer quick and convenient repairs for laptops and desktops. We provide same-day service, allowing you to resume work promptly. With skilled technicians and quality parts, your device is in capable hands. Additionally, competitive rates and flexible scheduling make it easy to get the assistance you require. join with us and resolve your tech problems swiftly and affordably.
My desktop keeps overheating: why and what to do?
computer makes noise while running.
Desktop Boots but won't launch windows.
No sound corning from desktop.
Desktop Boots but won't launch windows.
No sound corning from desktop.
Motherboard Chip level Repair service.
Computer shuts down or freezes dead.
UPS Battery Problem.
System setup and software support.
Overheating problems in desktop.
Desktop Keeps Restarting.
Printer won't print, printer not connecting.
Virus, Malware, Spyware Removal Service.
Desktop slow performance and slow internet.
OS Installation (No Pirated).
Windows Blue Screen Error.
Installed Program isn't working on PC.
Desktop slow performance and slow internet.
LCD broken replacement.
UPS Battery Replace (Online UPS).

PC and Laptop Service
At our service center, we take pride in our specialization in fixing a wide range of desktops and laptops. When you entrust your device to us for repair, we are dedicated to providing you with transparent and informative service. Our technicians will thoroughly diagnose the issue and ensure that you are informed about what happened during the repair process. Moreover, we will offer valuable insights and guidance on how to prevent similar issues from occurring in the future, empowering you to maintain the health and longevity of your device. At our center, your satisfaction and understanding of the repair process are most importance to us.
Virus Malware Spyware Trojan Removing
We specialize in offering comprehensive virus and malware removal solutions that restore computers to their original state. Our skilled staff has the expertise and abilities needed to eliminate every kind of system risks. Allow us to aid you in protecting your machine and guaranteeing its peak performance. You may be confident that your system is in capable hands with our assistance. Allow us to assist you in protecting your digital surroundings.
PC Laptop and Printers Configuring
If you are facing difficulties in configuring or setting up your office equipment, worry not! We are here to provide you with expert assistance in setting up your office devices. Our skilled team can help you with the configuration and installation of various office equipment, ensuring everything is properly set up and running smoothly. With our support, you can have peace of mind knowing that your office technology is efficiently configured and ready to boost your productivity. Let us take care of the setup process so you can focus on your work with confidence.
Software Troubleshooting Installing
We have extensive knowledge with Windows operating systems such as Windows XP, Windows 7, Windows 8.1, Windows 10, and Windows 11. Our specialty is troubleshooting operating system issues and giving efficient remedies. Furthermore, we specialize in software installs, guaranteeing that all of your essential programs are correctly installed and running smoothly. Rest assured that our professional staff is prepared to handle any problems you may have with your Windows OS and program installs, providing dependable and effective solutions to match your requirements.
Hardware Troubleshooting fixing and Upgrades
We offer a wide range of laptop repair services, including Laptop LCD Screen & Backlight Replacement, Charging Port Repair & Replacement, AC Adapter & Battery Replacement, Keyboard Replacement, and more. Our skilled technicians are equipped to handle these repairs with precision and efficiency. Whether you are facing issues with your laptop's display, charging port, battery, or keyboard, we have the expertise to provide reliable solutions. Trust us to get your laptop back in optimal condition and functioning smoothly.

Remote PC Assistance
WireTree provides comprehensive remote computer repair and online PC support services. With our team of certified experts, we are here to address all your PC-related concerns and worries. Whether you're facing hardware or software issues, performance problems, virus and malware infections, or any other technical glitches, our experienced professionals can remotely access your computer to diagnose and fix the problem efficiently. Rest assured, your computer is in safe hands with WireTree reliable and secure remote repair services. Say goodbye to PC troubles and let our experts take care of your computer's health and performance.