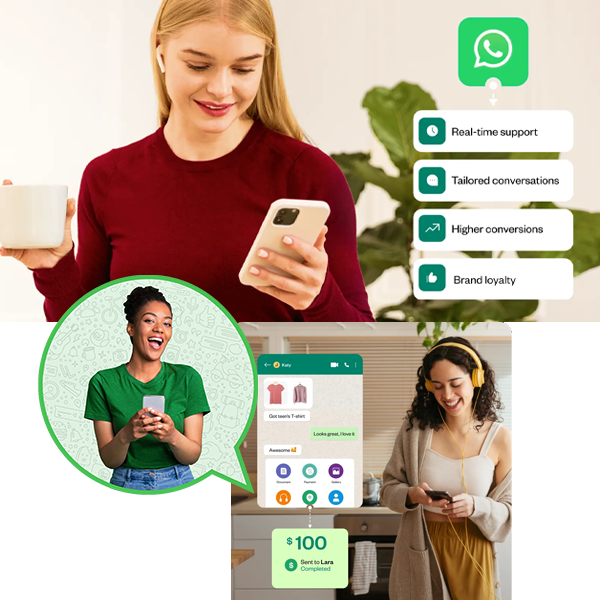 How to use WhatsApp to build a community around
your brand
Integrating WhatsApp into a Bulk SMS Gateway represents a forward-looking strategy. With WhatsApp's widespread popularity, businesses can leverage its platform to establish authentic connections and interact with customers in a comfortable and familiar setting. By incorporating real-time messaging through WhatsApp, companies can promptly address customer inquiries, deliver timely notifications, and facilitate a more interactive communication approach. Furthermore, WhatsApp's broad user trust and extensive user base enable businesses to expand their reach and enhance engagement. This integration not only strengthens customer relationships but also opens up new possibilities and opportunities in the contemporary digital marketplace.
WhatsApp Marketing Services
Unlocking the Power of
WhatsApp Marketing Services
Discover the impact of WhatsApp Marketing Services with Wiretree. It's like finding the key to boosting your online marketing. With Wiretree, you can use WhatsApp to reach people in a friendly and effective way. This service lets you connect with a large audience, making your marketing even better. It's all about using this tool to talk to people, engage with them, and make your business thrive in the online world.
Helps to connect globally
WhatsApp Marketing is a powerful tool for businesses to establish global connections with their target audience, leveraging its extensive user base of over 2 billion. It allows for direct and personalized communication across various content formats, bridging geographic gaps
Automated marketing
Wiretree uses WhatsApp marketing to provide businesses with a cost-effective, controlled approach to reach their target audience, ensuring precise and personal brand message delivery, and offering a high return on investment.
Multimedia support
Utilizing WhatsApp marketing opens up the opportunity to craft and dispatch compelling messages and captivating videos, strategically designed to captivate and hold the viewer's undivided attention.
Brings personal touch
WhatsApp facilitates concurrent connections with multiple clients, enabling you to engage with your customers more effectively through separate conversations and provide them with personalized service.
Speed up the chat
WhatsApp messages instantly capture the user's attention, allowing you to swiftly gauge client responses. Incorporating clickable buttons and URLs can drive increased web traffic, boost subscriptions to notifications, and spur various other desired actions.
Interact across borders
WhatsApp's worldwide reach simplifies the process of locating and communicating with clients. It allows you to engage with individuals from across the globe, bypassing the complexities associated with regional messaging regulations.
Implement any use case on a
single channel
Businesses have a rare opportunity to design and implement conversational marketing, sales, and support blueprints within the vast and dynamic world of WhatsApp. These closely designed use cases, which are tailored to respond to customers' various needs and questions, can be implemented at any point in the customer journey. This strategy uses a unified platform to ensure streamlined communication and improve overall customer satisfaction by delivering consistent, timely, and personalized interactions. Such conversational strategies are effectively integrated to deepen customer relationships, increase customer retention, and promote growth.
How to use
WhatsApp features

to improve your communication strategy

Leveraging the diverse and user-friendly features of WhatsApp presents businesses with an invaluable opportunity to craft innovative and distinct interactions tailored for their customers. From its real-time messaging capability, multimedia support, and end-to-end encryption to its status updates and voice messaging functions, WhatsApp provides a plethora of tools to engage users in diverse ways. By integrating these features into your outreach, you can significantly enhance your overall communication strategy, resulting in a more personalized and immersive customer experience. This level of tailored engagement not only fosters loyalty but also positions your brand as forward-thinking and responsive to the evolving communication preferences of the modern consumer.