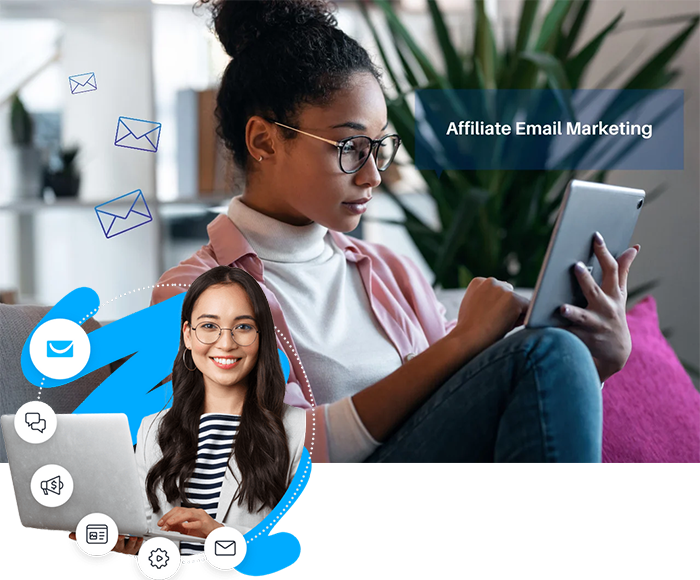 Cheapest Email Marketing Services in Sri lanka
Why work with
WireTree E-mail Marketing?
At WireTree, we believe that emails and e-newsletters are more than just communication tools; they're bridges that foster customer loyalty. Instead of generic, automated emails that often fail to resonate, we craft personalized messages, ensuring that the right product is presented at the right time.

By conducting thorough audits, we determine the potential of using emails to enhance your business visibility and sales. We don't believe in one-size-fits-all solutions. We study, design, and dispatch emails based on specific stages of the customer journey, ensuring that your message lands when it's most relevant. Recognizing the global nature of e-commerce, we're attuned to varying time zones, cultural nuances, and seasonal changes.

At WireTree, we champion the use of emails for remarketing, cultivating loyalty, and integration at both shopping cart and website levels.
Get Inspired by Our Beautiful Email Marketing Flyer Designs
Designing digital content involves more than just placing optimized text and images on a page. It is the method by which your brand establishes its authority and conveys your company's message, whatever it may be. Effective content designing strategies should take into account your company's long- and short-term goals, regardless of whether you are a top-tier corporate brand or a small or medium-sized business that focuses on serving customers.

No matter how crowded your market is, Business Campaign can help you stand out from the competition with relevant, targeted e-flyers.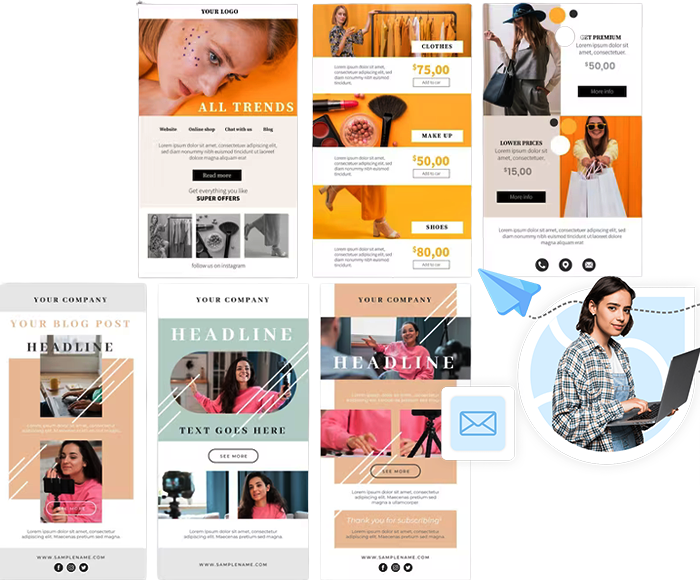 build relationships with customers
How to use email marketing to
build relationships with customers

?

Email marketing serves as a powerful tool for both business inquiries and advertising to prospective clients. This strategy has the potential to drive a significant volume of visitors to your website and prompt direct interactions with your audience, ultimately contributing to increased sales. Consistent engagement through email campaigns can foster brand recognition and loyalty, resulting in a dedicated customer base that frequently patronizes your business.

However, it's crucial for businesses to be adept at creating content that avoids being flagged as spam by automated filters. With Business Campaign, you can tap into our active user base, enabling you to directly share your content with an engaged audience.
E-Marketing Marketing Services
Why
WireTree

E-Marketing
Our 10+ years of successful business operations are based on trust and a history of producing quantifiable results. Our area of expertise is in maximizing the combined power of SEO and social media advertising to increase customer engagement, promote sales, and advance business growth.
SPAM Free Delivery
We deploy top-tier mail servers for our email delivery, ensuring an email bounce rate of under 1% and a spam rate of under 5%, both guaranteed. Additionally, we offer ongoing spam testing as a feature within our newsletters to maintain the highest email deliverability standards.
Marketing Strategy
Integration of email marketing, social media marketing, and SEO is the key to our success. With the help of this effective combination strategy, we can increase the number of consumer inquiries. If a promotion fails to produce the desired results, we are committed to offering an alternative to make sure our clients' goals are achieved.
Organize Email Database
Our organized email database is a testament to our commitment to accuracy and efficiency. It means that we've diligently categorized and structured our contact information, making it simpler to target particular audiences with our communications. This strategic organization allows us to deliver content that resonates with our recipients, ultimately enhancing our email marketing effectiveness.
Tracking & Reporting
To track the effectiveness of your email promotions, we offer comprehensive delivery data. This data encompasses vital metrics such as the number of emails successfully delivered, open rates, link clicks, bounce rates, and unsubscribe rates. These insights provide a clear picture of how your email campaigns are performing and enable data-driven decisions for ongoing improvement.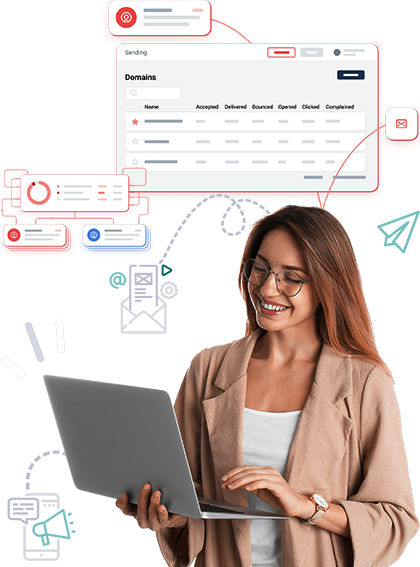 Here the quick tips for your E-Marketing News letter
Successful marketing emails hinge on managing expectations. To elicit better responses, consider offering value within your newsletters. Make sure to strategically place compelling call-to-action buttons and to clearly display your contact information. Start with an introductory email that introduces your audience with your new product or service. Afterward, maintain a weekly marketing rhythms .In order to ensure that the content of your newsletters is interesting and simple to understand, choose to use images with little text.